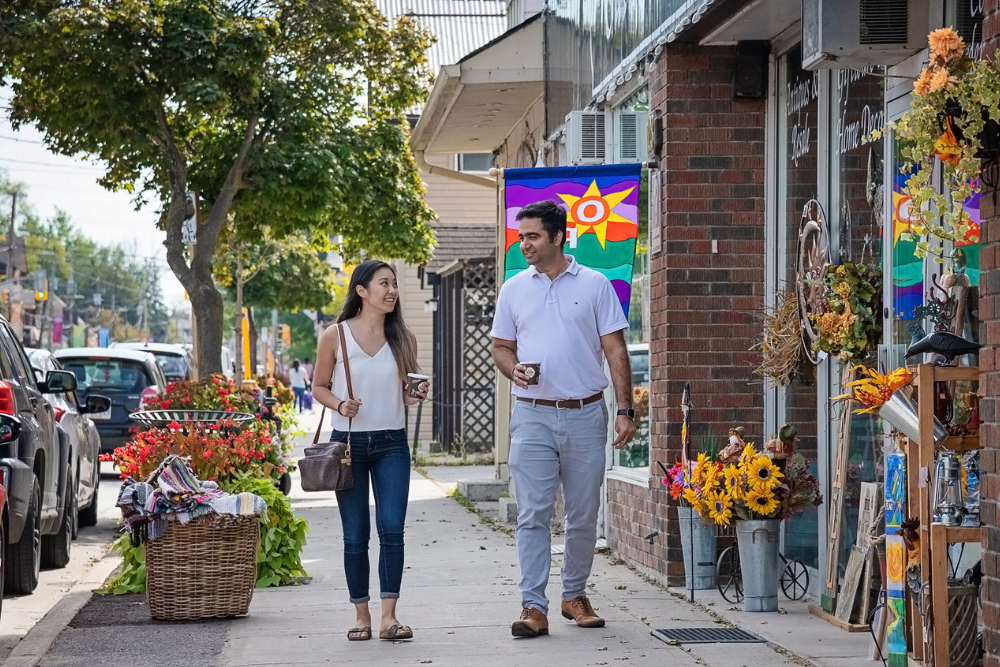 What is a Business Improvement Area?
A Business Improvement Area (BIA) is an association of commercial property owners and tenants within a defined area that work in partnership with the Town to create thriving, competitive, and safe business areas that attract shoppers, tourists, new businesses and residents. 
Each BIA is governed by a board that works together on behalf of the businesses, with the municipality's support, to address issues and determine how the funds collected from each business annually should go towards beautification, marketing, events or other strategies. 
Georgina has three BIAs with locations in Jackson's Point (est. 1992), Keswick (est. 2014) and Sutton (est. 1995), representing more than 150 storefront businesses. 
What to expect when you are a BIA business (member)
Business owners (members) can expect regular communication from their BIA board and the Economic Development office that may be of interest to them or impact their business. All members will be invited to the BIA's annual general meeting, at which time a yearly budget is voted on for approval. 
All owners and tenants of a commercially assessed property within the BIA will automatically become BIA members and will be required to contribute to an annual budget to support initiatives within the BIA. More information on the operation of a BIA is available in Section 205 of the Municipal Act.
How much do businesses (members) contribute to a BIA levy?
Georgina's BIA levy is related to the property owner's commercial property assessment. As of 2021, the annual BIA levy for a property ranges between $200 and $600, depending on the BIA. 
Why do business in Georgina?
Georgina is a desirable location to live and invest in, and with Hwy 404, it is only a 30-45 minute drive north of major urban centres. Combined with a lakeside lifestyle, Georgina provides a unique personal and professional balance that's hard to find so close to Canada's busiest city. Those interested in starting a business in Georgina can learn more about the Town's economic indicators and statistics by browsing the data centre.
Five reasons to get involved in your BIA or start a business in a BIA
1. Access to funding opportunities
As part of the Municipal Act, the Town can offer grants and programs to businesses within the designated borders which are intended to improve and revitalize the area.
The Town of Georgina offers grants to businesses through the Community Improvement Plan, which includes streams to enhance facade, landscaping and accessibility or to cover costs associated with COVID-19. 
2. Partnerships and networking opportunities
When you are a part of a BIA, you'll receive increased communication through the board and the Economic Development office at the Town. This additional communication may include opportunities to engage with the Town on municipal project plans, connect with event organizers or take advantage of program opportunities such as Digital Main Street and Venture Lab, or other partner initiatives. Also, being geographically situated in close proximity to other brick-and-mortar businesses offers networking and partnership opportunities that more businesses can benefit from.
3. Ability to shape your community
If you choose to get involved on your BIA board, you'll have increased engagement opportunities to be involved in municipal initiatives that oversee area improvement and beautification projects such as the Town's Streetscape Program, Patio Program, Waterfront Parks Master Plan, etc. Opportunities may also become available through other levels of government. Overall, a BIA may improve quality of life through physical improvements, the creation of a more vibrant economic environment and an enhanced ambience.
Past Uptown Keswick BIA's board Chair Karin Cacciola said, "Joining the Keswick BIA board has increased my communication with the Town to share my opinions, future dreams and be a part of the improvement for an area that I'm passionate about. It has also allowed me to connect with like-minded community members and BIA directors who want to see our community thrive."
4. Increased marketing opportunities
BIAs have the unique opportunity to promote the area as a shopping and tourist destination through a collective website and or other marketing channels. The Town also supports the promotion of these areas through campaigns and tourism development. For example, a designated webpage, georgina.ca/downtowns on the Town's website, links to each business within its designated BIAs.
5. Increased business exposure
The BIA is quite often the central hub for local festivals, celebrations and tourists. Being a part of these areas provides a unique opportunity for increased exposure to residents and visitors.
To learn more about Georgina's BIAs, how to get involved or sit on a board, along with available storefront locations and market opportunities, contact Georgina's Economic Development and Tourism office at ed@georgina.ca.