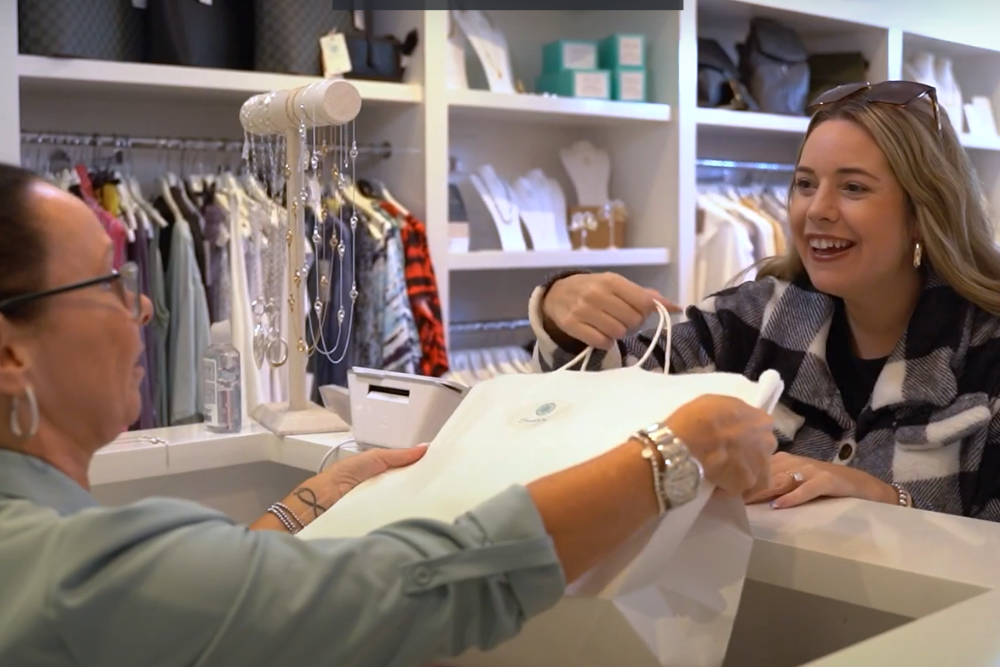 Business owners choose Georgina to start and expand their small businesses
Owning and operating a small business involves passion and a great deal of hard work. When choosing to start or expand a business, you want to ensure you've chosen a place where you feel supported by your community, where you see opportunity and growth to ensure long-term success, and where you can relax and enjoy where you live with a balanced work/life lifestyle. 
The Town of Georgina, York Region's northernmost municipality, is proving it can provide an ecosystem to support entrepreneurs. This ecosystem, together with a blend of urban and rural landscapes, creates an appealing lifestyle. An established business owner, a new-to-Georgina business owner and a YSpace Entrepreneurship Hub participant tell us why they chose and continue to choose Georgina to reach their small business goals.  
Moving to Georgina and starting a business
Ali and Sweeta Agah left the city and moved north to the community of Keswick. They not only found a place where they could enjoy the outdoors to the fullest and have more living space, but they noticed an opportunity – a gap in the market, to open a business.
"We have friends in Keswick that have been encouraging us to move here for the past few years. And we wanted to get into food/grocery and noticed there was nothing in Georgina. There's no Halal meat, and the community is growing. We decided to do what we are doing now. And so far, we are happy," said Sweeta, co-owner of Bahar Supermarket in Keswick.
Making the decision to move is not without its obstacles. There are many factors to consider, one being family. Luckily for Ali and Sweeta, moving to Georgina benefited their entire family.
"It was hard for me at the beginning to move to Keswick because of my parents, my sister and so on, but now, you think it's far, but everything is so close because the 404 is right there. And now that we are busy with the store, they get to come to us. So they love Keswick, and I'm encouraging my sisters to move here," said Sweeta, co-owner of Bahar Supermarket in Keswick.
Jacinta, the owner of Jacinta Healing Arts and a Georgina YSpace participant, knew very quickly after visiting Georgina that it was the perfect place for her to live.
"When I lived in Toronto, I didn't really feel at home. When I came to Georgina, I fell in love. I decided to sell and buy a house in Keswick all within six weeks. That's how much I fell in love with Georgina. I just couldn't wait," she said.
A growing town with opportunity and potential
The Town of Georgina has seen a lot of growth and is expected to continue to grow with the development of the 404 Logistics Business Park and more residential homes throughout the Town's lakeside communities, primarily in Keswick and Sutton. This continuous residential growth, coupled with established year-round tourism, positions it as a promising place to do business.
Debbie Balinas, the owner of Sweet Pea Boutique in downtown Sutton said, "I think starting a business in Georgina is still affordable, you're still getting in at a good level where things aren't too expensive, but it's growing. It's growing very quickly and there's not a whole lot of competition. You can get in and still make very good money and expand your business at the same time without having too much competition around." 
"In the last 20 years, there has been a lot of growth, not just in population but in industry. There is a lot of building, lots more industry too and tourism. There's been a lot more to attract people from everywhere to come up to such a beautiful town," said Debbie.
Skills training and business support
In 2021, the Town of Georgina partnered with York University's YSpace and the Town of East Gwillimbury to offer skills development programming for entrepreneurs. This support has provided hundreds of entrepreneurs with assistance to either start up their businesses or scale up their operations.
"The support I've been getting from YSpace is so great that I feel like I'm literally being led by the hand to get to where I need, and it can't get better than that… I feel very fortunate to be in a community where people feel so strongly about helping each other," said Jacinta.
The Town also provides other business supports through its Economic Development and Tourism office, such as property selection and zoning, marketing support, grants and incentives, and more.
Reasons to choose Georgina to do business
Whether you are just starting or are an established business, Georgina is an exciting place to do business. The Town's forecast growth, collaborative business community and municipal support, give business owners from every sector a number of reasons to choose Georgina. For some, it's the appealing lifestyle, for others, it's the affordability and proximity to larger urban centres, but for all, it's the community – the support and welcoming atmosphere.
"You don't have a great deal of competition. For me, I've expanded. I've opened another store on our street just because I see the opportunity. I think it's been very good. We have a great community that's always supporting small businesses. We see a lot of that. They are grateful to have us here, so they shop here. They want to keep their businesses here, so they're good at supporting small businesses. I would definitely recommend having a business here. It's why I expanded. I keep getting bigger because it just keeps growing for me," said Debbie.
"I feel more comfortable here. I feel more at peace. I feel that in the middle of the night, I can count on my neighbour to look after the kids… it's a different lifestyle. It's cottage country, but yet you are close to the city too, and it's growing, " said Sweeta.
"I choose Georgina to live and work because when I came here, I felt at home. The feeling of home is comfort. The feeling of home is being loved by your community… I can't describe anything better than that," said Jacinta.
Growth, appealing lifestyle, market opportunities, affordability – all ingredients for small business success. If you are thinking Georgina could be the perfect recipe for small business success, connect with the Town's Economic Development and Tourism office to learn more about Town programs and support.